The Mission of St Patrick's Marist College is to lead young people in the way of Mary, to know and love God in the belief that they can all become good Christians and good citizens.
Inspired by the Gospel, we commit ourselves as disciples of Jesus, and in the spirit of Marcellin Champagnat strive to help all people grow to their full potential.
The College is a family focused on the formation of young people with strong minds and gentle hearts. Our quality teaching and learning experiences nurture and challenge each student to become an informed, thinking person who acts with the compassion of Jesus and the reflective heart of Mary in creating a more just world.
The environment in which students interact with other students, staff, parents and friends of the College is warm and friendly, yet ordered and disciplined, and where relationships are characterised by mutual respect. The partnership established when a student enrols at the College includes an engagement of parents, parish and the wider community to provide a supportive and challenging pastoral structure that promotes growth.
Like our patron St Patrick and our Good Mother, Mary, we believe in a future filled with hope, a hope that we can make real.
---
School Crest
Motto:
"Esto Fidelis" – Be Faithful
Interwoven "A" and "M":
Marist Symbol – Ave Maria (Hail Mary) this highlights the place that Mary, the Mother of Jesus, has in the life of this College.
Southern Cross:
Symbolises Australia and reminds us of our love for our country and duty towards all.
Shamrock:
Represents our links with St Patrick's at The Rocks.
College Colours:
Bottle Green and Gold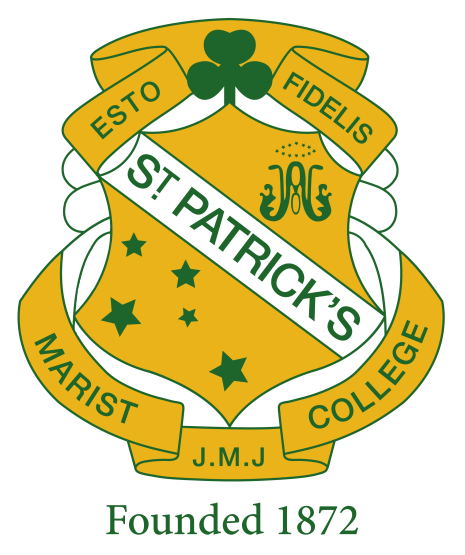 ---
College Prayer and Song
Sub Tuum Praesidium
Sub tuum praesidium confugimus, confugimus,
Sancta Dei Genetrix, Sancta Dei Genetrix.
Nostras deprecationes ne despicias, ne despicias in necessitatibus nostris.
Sed a periculis cunctis libera nos semper,
Virgo gloriosa et benedicta.
Sub tuum praesidium confugimus, confugimus,
English Translation
We fly to your patronage,
O Holy Mother of God,
Despise not our prayers in our necessities,
But deliver us from all dangers,
O every glorious and blessed virgin.