St Patrick's Marist College student honoured
03 Oct 2014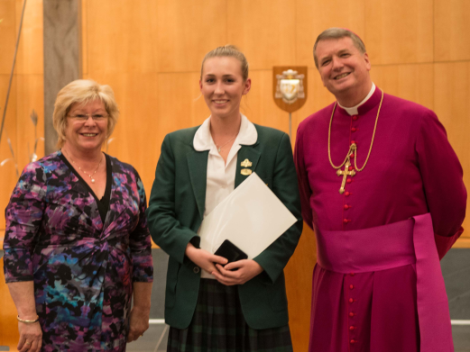 Brigitte McIntosh with Sue Walsh and Bishop Anthony Fisher OP
Brigitte McIntosh from St Patrick's Marist College, Dundas recently received the annual Bishop of Parramatta Award for Student Excellence, which recognise the religious and academic achievement of senior secondary students across the Diocese of Parramatta.
Brigitte has been an outstanding servant of her school and local community. She has demonstrated her commitment to serve others through her involvement with the elderly and the Lions Club of Australia.
Brigitte has a deep love of learning. Her meritorious efforts have been recognised through a significant number of awards through Years 7 to 12. A keen sportswoman, she has represented the College in water polo, touch football, swimming, athletics and soccer. In netball she has excelled, being selected as a member of the All Australian Marist Netball Squad in 2013.
Brigitte is a worthy recipient of the Bishop of Parramatta Award.